Is Banff actually the most beautiful place on earth, or what?! It doesn't get much better than jagged rock mountains looming over turquoise glacial lakes. Two of the most beautiful national parks in the world, Jasper and Banff are close together and make for a perfect extended Canadian Rockies road trip. There is a lot to see, so read on for my suggested Banff and Jasper Itinerary.
**This post contains affiliate links. I may make a small commission from these links at no extra cost to you. As an Amazon Associate I earn from qualifying purchases. Read my full disclosure HERE.
How to Get To Banff and Jasper National Parks
The nearest international airport is in the metropolitan city of Calgary, Alberta. The drive from Calgary to Banff is approximately 1.5 hours.
Compare prices on flights with Skyscanner
You can easily rent a car from the airport in Calgary. I live in Washington state just below the Canadian border, so we didn't have to fly, we just made a one week road trip loop of it, stopping in Kelowna wine country, Jasper, Banff, and then Revelstoke on our way home.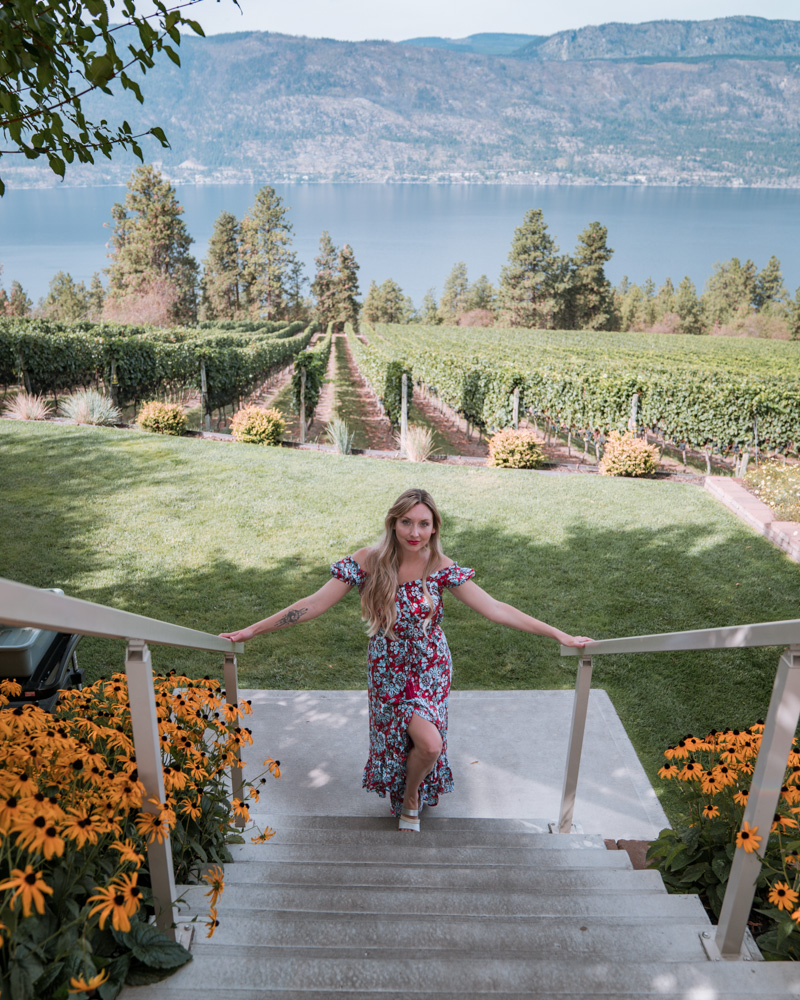 Where to go on a Canadian Rockies Road Trip
It's really tough to narrow it down; I feel like I could live in a van and travel British Columbia and Alberta for months. Not to mention, I'd love to see it in every season. But for the purposes of this post and this Banff itinerary, I'll focus on Banff and Jasper itineraries for a one week road trip. You can move this interactive map around and click to see the landmarks I've marked.
How Much Time Do You Need For Banff and Jasper National Parks?
I would say one week was perfect. We could've still seen a lot in 5 days, or we could've done more with two weeks. But I think a 5 day itinerary for Banff and Jasper should be the minimum. 2-3 days in each park, plus the 3.5 hour drive between them (more with stops) requires a good 5 days total. We loved having 7 days to spend one day and night in Kelowna wine tasting and seeing the lovely downtown. So I'm unofficially making this a 7 day Banff and Jasper itinerary.
Where to Stay in Jasper National Park
We opted to divide our time between camping and an Airbnb in Jasper. After a night or two sleeping in the back of our car, it was nice to have a good shower and place to spread out in town for a night or two. For camping in Jasper and Banff National Parks, you want to reserve your camp sites ahead of time as they can book up during high season. Click here –> RESERVE CAMPING SPOTS.
In Jasper, we stayed at a lovely little campground on Yellowhead Lake, named Lucerne Campground in British Columbia, just before crossing the time zone into Alberta. It is technically in Mount Robson Provincial Park, not Jasper.
When you reach the gate to Jasper National Park (or any gate to any of the National Parks), you must buy a national park pass which is good for all the Canadian Rocky Mountain parks (Jasper, Banff, Yoho, Kootenay, Revelstoke, Glacier, Waterton, etc.) The daily pass price is around $10 per person, whereas an adult annual pass is around $70 per person, which makes it a better deal if you visit for more than a week out of the year.
Pyramid Lake Resort – Perfect for more of a high end, lodge experience in a beautiful setting.
Whistler's Inn – Prefer to be in town? This cute hotel features a rooftop hot tub and a steam room.
Jasper East Cabins or Pine Cabins – For more of rustic traditional cabin experience with all the comforts.
Airbnb – Follow the link for the cute place we stayed right in the town of Jasper. There are tons of other adorable houses and apartment rentals right in town. Staying in Jasper town proper was convenient for restaurants and close to many of the sites you'll want to visit. Please use THIS LINK to get a discount on your first Airbnb stay.
For breakfast and wonderful coffee, we were particularly fond of the Sunhouse Cafe right in the heart of Jasper.
What to See in Jasper National Park
Maligne Canyon, Medicine Lake, Maligne Lake
Maligne Lake is worth a visit along your Banff and Jasper National Park itinerary. Especially if the weather is clear. We went on a day that was so foggy, it would have been pointless to spend the $75 to take the boat tour out to see Spirit Island. On a beautiful day, I think visiting Spirit Island would be a real treat.
The route to Maligne Lake also includes Medicine Lake and Maligne Canyon, so the 2+ hour roundtrip drive from the town of Jasper is worth it. A fire that burned through Maligne Valley in 2015 has dramatically changed the landscape of Medicine Lake as you'll see driving by but it is still beautiful.
Maligne Canyon is pretty and there are a series of bridges across it. You could theoretically spend a good 2-3 hours hiking here, although for your time, I think you'd be better off spending it doing another hike with more rewarding views, and just stop at Maligne Canyon for a short while.
Pyramid and Patricia Lakes
Patricia Lake and then Pyramid Lake are both in the same area. Both are an easy 15 minute drive from the town of Jasper and fairly similar looking lakes. We saw a grizzly bear along the road in this area which was fun.
There are a handful of spots to park along Patricia Lake to have a picnic or nap in the car and enjoy the views. On a warm summer day, I'd have jumped right in.
A little farther up the road past Patricia Lake and you'll come to Pyramid Lake and Pyramid Lake Resort, which would be a great place to stay. You can also rent canoes here. Pyramid Lake is known for Pyramid Island, pictured below. You can walk across the bridge and explore the cute little island.
This little island can get busy so either come quite early or later in the afternoon seemed to be quieter as well. Late morning seemed fairly busy and there are not a lot of parking spots. To get here, just continue driving along Pyramid Lake past the resort and you'll see a few parking spots and cars along the road. There is a trail to the bridge to the island and it's a short easy little walk. The bridge makes for a cute photo spot with the island in the background.
Annette and Edith Lakes
These two lakes could easily be visited the same day as Patricia and Pyramid Lakes. They are small and quaint, but Annette Lake in particular is a pretty aquamarine color. Both Edith Lake and Annette Lake have trails you can walk around them. Both would make for a fantastic summer day of kayaking or paddle boarding.The road past these lakes is also the road that continues to Maligne Canyon, Medicine Lake, and Maligne Lake.
In the summer, you can rent paddle boards at Lake Edith from Translucid Adventures.
Organized Tours
There are a number of outdoor adventure tours you can take in Jasper. You can river raft the rapids, take a glacial ice field or ice canyon tour, ride a sky tram, go canoeing, or leisurely float down a river.
Hike Around Jasper National Park
There are endless possibilities for creating your own outdoor adventure in Jasper, and a beautiful hike that takes you where your car can't is the best way to do it. One of the most popular trails is the Mount Edith Cavell Trail. The trailhead is less than an hour from the town of Jasper and the trail is around 5 miles long roundtrip. You'll come across mountain views, glaciers, and green glacial water.
Sulfur Skyline Trail is another popular hike rewarding you with incredible views. The trail is roughly 5 miles total but does have some steep sections and takes most people between 4 and 6 hours to complete. Close by is Miette Hot Springs if you'd like to reward yourself with a soak after the hike.
Short stop-offs to waterfalls (Maligne Canyon, Athabasca Falls, Sunwapta Falls) are much quicker, easier walks where you can explore as little or as much as you want just a short distance from your car.
Athabasca Falls
Athabasca Falls and the entire river are quite beautiful. Had the fog not been so heavy, the dramatic Mount Kerkeslin would've been visible in the background.
There are unique rock structures to explore in the immediate vicinity of Athabasca falls.
Sunwapta Falls
Driving about 20 minutes farther on the Icefields Parkway is Sunwapta Falls. The falls are a short little walk from the parking lot to a viewing bridge. It takes around 5 minutes to walk to and the parking area is right along the Icefields Parkway. This makes it a good stop along the drive from Jasper to Banff National Parks. You could spend more time following trails to different areas around the falls if desired.
If you set up a tripod and caught it during the right light or with a beautiful sky, it would make a lovely photograph. But it was rather grey and dreary when we went so we just made it a quick stop.
Icefields Parkway
Considered one of the most stunning drives in the world, the Icefields Parkway (AB-93) connects Jasper National Park to Banff National Park. The approximately 140 mile stretch takes around 3 hours to cover, although with stops, it can take longer.
The Icefields Parkway is a highlight of the Canadian Rockies road trip itinerary. The views are stunning, the water is milky aqua or vibrant turquoise, and the many glaciers are imposing. Take your time. We used an entire day to make stops along the way.
What to See in Banff National Park
Oh Banff. There really is no place like it. Every time I see the mountains and lakes here, I tell myself this has to be the most beautiful place on earth. Canada's oldest national park, established in 1885, will be the highlight of your Canadian Rockies road trip itinerary. There is so much to see, but I'll highlight some of the most popular and unmissable sites of a Banff itinerary.
Peyto Lake
Peyto Lake is a stunning turquoise blue lake, famous for the view from the overlook along the Icefields Parkway. The lake is beautiful year round, but in the summer the turquoise is much more vibrant due to mineral content in the Peyto Glacier runoff that feeds it.
The parking lot at Bow Pass can get quite busy. The trail to the overlook is paved and uphill, but it's not too difficult and takes less than 15 minutes. The overlook on the wooden platform can get crowded, but follow the dirt trail into the trees to the right and down the hill just before the platform and the crowd thins out, the view is better, and the opportunity for photos is MUCH better.
You can extend your hike by hiking another 10 minutes past the viewing platforms to the rocky Upper Viewpoint for an even more dramatic view with fewer people. Alternatively from the main trail, you can take even a different branch of the path to get to the Bow Summit for views of Bow Lake as well.
You can indeed hike down to the actual lake shore as well by climbing down the rocky area below the first viewpoint or continuing on the main path then branching down just past the viewpoint.There is actually another way down as well. The other option is to drive a couple miles farther north on the Icefield Parkway to an unmarked pullout on the left which makes the hike even easier (2 miles roundtrip).
FYI: The Peyto Lake parking lot, restrooms, access road, and viewpoint are closed until late 2020 for construction improvements.
Bow Lake
Just a 5 minute drive past Peyto Lake is beautiful Bow Lake. You can park right off the Icefields Parkway in the parking lot just before Num-Ti-Jah Lodge.
This beautiful lodge hasn't changed much since its completion in 1950 and before that, it was just a small cabin for mountaineer, Jimmy Simpson and his family, to run his mountaineer tours. The lodge is open seasonally and offers stunning views from the shore of Bow Lake.
You can take a 5.5 mile out and back hike to Bow Glacial Falls around the lakeshore with the option to extend the hike to beautiful Iceberg Lake, which involves some mild scrambling.
Lake Louise
Lake Louise cannot be missed, of course. With a rich history dating back to the 1800's, Lake Louise was the set for outdoor adventure enthusiasts traveling west via the railway.
A one story log cabin was the original structure that eventually grew to the now famed luxury Fairmont Chateau Lake Louise. It possesses an iconic, old world luxury that very few destinations can match in beauty and setting.
Other nearby places to stay in order of closest distance to Lake Louise:
There are also a number of places in the little Hamlet of Lake Louise. We actually just stayed at Lake Louise Campground for a couple of nights.
For food, we absolutely loved grabbing a coffee and a breakfast burrito to go in the mornings from the Trailhead Cafe. And if you want to treat yourself to a nice meal or even just a coffee at Lake Louise, there are a few options at the Fairmont.
The waterfront is stunning with the milky aquamarine lake and glacier in the background. But it is crowded. Even the massive parking lot fills up in the summer months. You can either drive to Lake Louise from the little hamlet of the same name (about a 5-10 minute drive and free parking) or you can take the shuttle from the park and ride every 15 minutes between 8 am and 5 pm. Shuttles can also transport you between Lake Louise and Moraine Lake for no extra cost.
New for 2020: shuttles must be booked in advance HERE. If you're coming from the town of Banff and don't have a rental car, you can utilize HoponBanff to get around. It's a bit spendy though.
Hiking at Lake Louise
Some of the best hikes in Banff begin from Lake Louise. Two of the most iconic and stunning places to hike to are the two tea houses.
Lake Agnes Tea House
Built in 1901 (and reconstructed in 1981) by the Canadian Pacific Railway, this tea house served as a refuge for hikers and mountaineers in the early 1900's. Begin by hiking around the Lake Louise shoreline on the right and you'll come across a sign to branch off to the right.
You will eventually pass by Mirror Lake before reaching Lake Agnes and the tea house. It is a steady uphill hike (which makes it a knee killer on the way down) around 2.2 miles from Lake Louise and a gain of 1312 feet.
You can extend your hike 0.6 miles past Lake Agnes for better views of Lake Louise down below by going to Little Beehive. Alternately, continue along the right shoreline of Lake Agnes to go up to Big Beehive, with an awesome view. Or go all the way up to Devil's Thumb at over 8000 feet elevation.
The Plain of Six Glaciers Tea House
Built in 1927 by Swiss guides, the Plain of Six Glaciers Tea House remains the original structure and takes a bit longer to hike to but with more rewarding views. This 3.5 mile each way hike begins on the same trail on the right shoreline of Lake Louise but doesn't branch off and rather continues to the end of Lake Louise and up.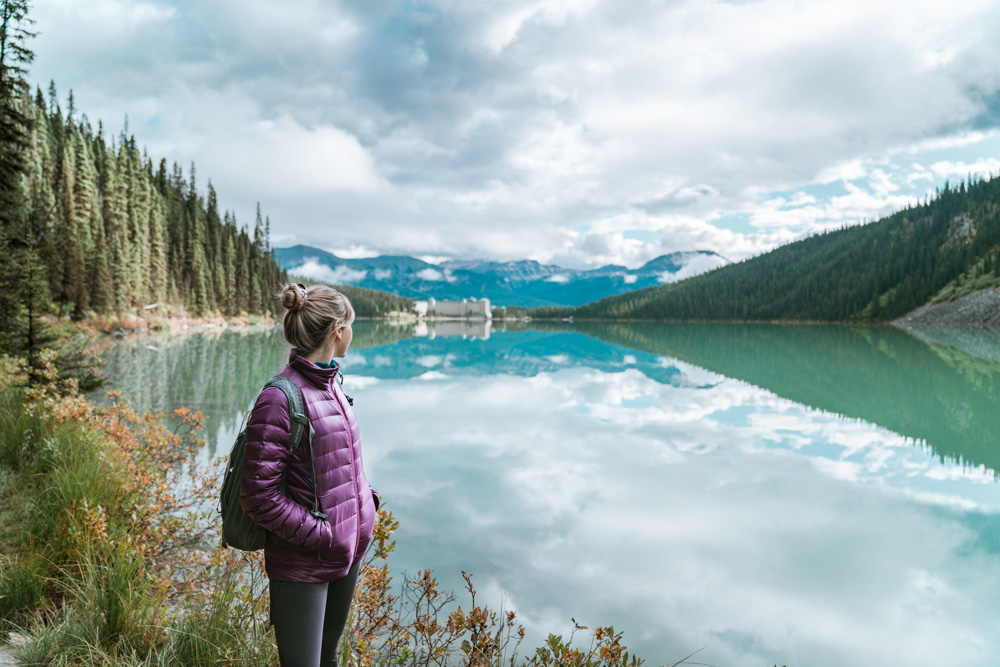 Most of the elevation gain occurs towards the end with some switch backs, but it's fairly short lived.
Finally you come to the lovely tea house where you can rest.
An additional hour roundtrip from here takes you to Abbott Pass where you can see high altitude glaciers and dramatic rock peaks. And if you're really ambitious, you can combine Lake Agnes in a day hike. There is a trail that branches off to connect the two tea houses in something of a loop. When you descend from The Plain of Six Glaciers Tea House, you'll see the trail branch to the left that goes up to Big Beehive and Lake Agnes. Then you can get back to Lake Louise by the main Lake Agnes trail. This 9+ mile loop really killed my knees and ankles. I couldn't survive without my knee straps.They've honestly made a huge difference in my comfort hiking downhill.
The tea houses have no running water or electricity. Supplies are helicoptered in at the beginning of the season, or hiked in by staff regularly as needed. Vegetarian food is prepared fresh with propane stoves and there are a variety of teas and drinks to warm you up or cool you down depending on the weather. Keep in mind they'll only be open from June to October and accept only cash (US or Canadian).
Weather can change dramatically, so bring layers, wear good hiking shoes, and go early to avoid crowds. Also, despite being popular trails, you could always encounter bear or other wildlife. Bring bear spray just in case. Also, have you seen more beautiful outhouses?
Moraine Lake
On my ambiguous, unordered list of most beautiful places on the planet, falls Moraine Lake securely somewhere in the top 5. It's just that incredible. The color of the lake is better than Lake Louise. It's a deeper, brighter turquoise and more clear. The mountains offer a far more dramatic backdrop. I just can't get enough. Unlike Lake Louise, Moraine Lake is only accessible from May to October. The road is high risk for avalanches in the winter.
To get to Moraine Lake, you drive the same road as if you were going to Lake Louise from the hamlet of Lake Louise. But there is a left turnoff on Moraine Lake Road that continues almost 8 miles. Google maps tells you the route between Lake Louise and Moraine Lake is 1 hour and 15 minutes long. This is totally inaccurate. The drive is only around 15-20 minutes.
Moraine Lake a much smaller parking lot and fills up sometimes by sunrise in the summer. They block the road to the lake when the lot is full, and then reopen it as cars leave. Either plan to drive there extremely early, or take the shuttle from Lake Louise, or plan to circle back around over and over again waiting for the lot to serendipitously open up as you approach the road.
There is only one place to stay near Moraine Lake, and that is Moraine Lake Lodge. It is more rustic than the Fairmont, but rooms are limited and are so high in demand, they book up a year in advance. I stayed there in 2010 and it was reasonably priced back then, but prices have changed exponentially. It's not even reasonable to stay for one night anymore, in my opinion.
Moraine Lake has a lovely restaurant in the main lodge that is definitely worth coming for though! You must make a reservation ahead. The food is delicious and the dining room is very cozy and not over the top formal. There is also a little cafe open till 4:30 daily with snacks and beverages. Visit the website for Moraine Lake Lodge HERE for more information.
Canoeing
If canoeing on one of these turquoise lakes is on your bucket list, I would suggest doing it at Moraine Lake. The lake seems to have fewer people on it at one time (smaller parking lot equals less people) and it's just a more dramatic backdrop. But it'll cost ya. You can rent a canoe at the dock daily from 9-5 in June to September depending on the weather, and an hour will run you $120 Canadian (about $85 US). The price is similar at Lake Louise.
Unless you can rent a canoe and transport it from the town of Banff on your own to save money, I sort of think spending the money to canoe is worth it. To glide across that beautiful water and explore the far side of the lake from the water is a once in a lifetime experience. The canoes are first come first serve. The best times of day are right when they open or right before they close.
Hiking
Rockpile Hike
Hiking around Moraine Lake is definitely possible and varies in intensity. The lake itself doesn't begin to thaw until June, so keep in mind there will be snow until mid summer. The most obvious "hike" around Moraine Lake is the Rockpile Hike. This little trail is to the left side of the lake when you approach the shore and winds up a huge pile of rocks to give you numerous vantage points and photo ops from the top. You could spend a good hour or two wandering around, taking in the views and maybe having lunch. The color of the water is best from up here.
Lakeshore Hike
A great way to see more of Moraine Lake is to follow the right shoreline past the canoe dock. The flat, easy trail will weave in and out of the trees near the shore. There are plenty of little beaches to sit on a fallen log and have lunch or take in the view. You can follow the trail all the way to the back of the lake and back, a total of less than 2 miles roundtrip.
There are other more extensive hikes near Moraine Lake that I haven't had the opportunity to do yet. Check out All Trails for more details, but here are some popular ones from Moraine Lake:
Consolation Lakes
Larch Valley/Sentinel Pass
Eiffel Lake Trail
Mount Temple
Johnston Canyon
About halfway between the towns of Lake Louise and Banff or 30 minutes from either, this popular hike is easy and fun, but parking can be a real pain during high season. There are two places to stay right at the trailhead: Johnston Canyon Lodge and Bungalows and Johnston Canyon Campground. This dramatic canyon takes you through the gorge with a tributary to the beautiful Bow River where you'll see waterfalls and awesome rock formations.
The trail can be as short as 30 minutes to the first Lower Falls, where I couldn't believe the line of people lined up to get misted by the falls and capture a picture. Years ago when I first came, we were easily able to walk right to the falls with hardly anyone around. Not the case this past summer.
The Upper Falls is a bit farther, maybe an hour total on the trail. There are two viewing platforms and we noticed there was a long line for taking a picture at the bottom platform, but a few minutes farther up the hill and there was almost no one at the upper platform and the view of the waterfall is quite good. I mistakenly waited in line for the following photo at the lower platform.
If you continue another 2 miles or so past the upper falls, you'll come to the Ink Pots, which are green mineral spring pools in a meadow.
The trail is open year round so in the winter you can get a totally different experience that involves frozen waterfalls. There are even tours for ice climbing.
Where to Stay Near Banff
There are so many options, from camping to basic hotels, to luxury lodges in both Banff National Park and Banff, the town proper. I was quite happy with where I've stayed in Banff on my two visits.
Lake Louise Campground – The cheapest option to be close to the hamlet of Lake Louise and close to the most popular lakes. They have toilets and showers too, which were quite nice.
Johnston Canyon Campground – These also have toilets and showers.
Johnston Canyon Lodge and Bungalows – A bit overpriced for what you get, but it's still cheaper than many other accommodations and well located.
Storm Mountain Lodge – For that true log cabin vibe.
Baker Creek Mountain Resort – A fairly large complex, with large rooms with decks, fireplaces and mini kitchenettes. They even have a recreational room and sauna.
Moraine Lake Lodge – My absolute favorite place to stay in Banff, but the price has gone up drastically over the last decade due to high demand. Very unfortunate. The price is almost not worth it anymore. But if you have the means, definitely splurge on staying here.
There are so many great places to stay, but expect to pay a lot wherever you go. But if you mix it up with some camping, that helps!
Visit the Town of Banff
The town of Banff is much bigger than the little hamlet of Lake Louise, and bigger even than the town of Jasper. It has a population of around 8,000. The luxury hotel there, the Fairmont Banff Springs, established in 1888, is truly a marvel to behold.
The town of Banff is quite stunning with massive mountains all around it. The main street is beautiful, there are galleries and restaurants lining the streets, and deer roaming through town. It takes about 40 minutes to drive between Banff and Lake Louise.
Yoho National Park
There's no reason to miss Yoho National Park if you're already right there in the area. Only about a 30 minute drive to the west from the village of Lake Louise, Yoho National Park features another stunning lake resort.
Emerald Lake
I consider Emerald Lake to be one of the three gems along with Moraine Lake and Lake Louise. It's not quite as popular, which makes it nice. I would definitely consider staying at the stunning Emerald Lake Lodge on my next visit to the area. It is incredibly stunning in the winter as well.
You can dine at the Emerald Lake Lodge as a guest or not, but reservations are required. They also have Cilantro Cafe pictured above for grabbing a quick snack. Emerald Lake is also a great option for canoeing too as the price is a little cheaper and it's a little bigger than the other lakes so there's more to explore from the water.
Emerald Lake Lodge also has a fitness center, outdoor hot tub, and dry sauna. A winter getaway here is on my bucket list.
Other fantastic parks in the area to visit include Kootenay National Park, Mt. Assiniboine Provincial Park, Bow Valley Provincial Park, and farther north of Jasper is Mt Robson Provincial Park and others. Canada is amazing!
What to do on a Canadian Rockies Road Trip Each Season
There is literally fun to be had all year long in the Canadian Rockies. And if you want to enjoy this place more than once, try coming in a different season for a totally different experience each time.
Summer in the Canadian Rockies
Naturally this is the best time of year to be able to see everything. But the crowds can be a hindrance. Highlights are hiking, canoeing, horseback riding, cycling, mountain biking, white water rafting, rock climbing, and Gondola rides.
Fall in the Canadian Rockies
You can enjoy all of the above, with some golden larches thrown in. There could be snow on the ground and the temps will drop, but this is a great time to enjoy the national parks without as many crowds. Keep in mind that snow may fall as early as October.
Winter and Spring in the Canadian Rockies
Winter enthusiasts will find the Rockies a paradise when the snow falls. With one of the longest ski seasons in the world, and no less than 3 ski resorts in the area (Lake Louise Ski Resort, Sunshine Village, Mt. Norquay), winter sports can be enjoyed in fall, winter, and spring. There are also endless possibilities for snowshoeing and cross-country skiing. You can even take advantage of magical Lake Louise and go iceskating or on a sleigh ride but remember, Moraine Lake is closed until late spring. Ever wanted to go dog sleddingr? Me too. A couple of the gondolas are open year round as well!
Snow doesn't melt and lakes don't thaw until late spring/early summer so keep that in mind when planning your activities.
What to Pack
Bear Spray
Of course you need some bear spray. Carry it with you whenever you are hiking. I'd even keep it handy if you're camping just in case.
Layers
Lots of layers for different weather is essential!

Hiking Poles and Knee Bands
If you plan to do some hiking and have bad knees, bring some poles and these knee band things. These both have literally made my hiking experience a million times better over the years.
Paddle Board
Honestly, if the weather looks even remotely warm, and you're driving where you could throw a blow up paddle board in the trunk, I'd totally do it. I regretted not doing so and would definitely do it next time.
Day Pack and Water Bottle
Tent
If you plan on camping, bring a tent and sleeping pads and sleeping bags. We have a nice sized SUV and just made a bed in the back which was so nice not having to set up a tent at night.
Binoculars
I'm not one for binocs, but my boyfriend is. He says you should bring them.
Snacks
Since the only towns are Jasper, Lake Louise, and Banff, and they are quite spread out, it would be a great idea to stock up on some snacks for your road trip.
That's all I got! I hope this lengthy post is helpful in planning your Banff and Jasper road trip itinerary and you can have that bucket list Canadian rockies road trip so many people dream of. Drop me a comment or shoot me an email if you have any questions or comments, and click the pic to Pin, eh?
Well, hello there!
Subscribe to get my latest content by email.
Please follow and like us: