I'm calling this article "What to do in Bruges in One Day," but I literally mean 24 hours in Bruges, not a day trip to Bruges (or Brugge in Dutch). I truly believe some places are deserving of an overnight trip at minimum, and Bruges is one of these. It pains me to even suggest 24 hours or one day in Bruges, because that's about how long I was there, and I left feeling like I wanted to stay another week. Or perhaps just move to the story book town.
**This post contains affiliate links. I may make a small commission from these links at no extra cost to you. As an Amazon Associate I earn from qualifying purchases. Read my full disclosure HERE.
Bruges, Belgium should be on your "must see" list for European cities. Hardly a city at all, and more of a medieval village, Bruges city center was designated a UNESCO World Heritage Site and is possibly the most picture perfect town in Europe.
The city experienced a golden age from the 12th-15th centuries as a commercial hub with it's strategic trade access. Many elements of the medieval city, often called The Venice of the North, have been well preserved and the architecture displays different stages of history. Despite having been occupied by the Germans in both WW1 and WW2, Bruges emerged virtually unscathed. And thank goodness, because now we can enjoy being transported back in time, or perhaps into a fairy tale, to enjoy this well preserved piece of historical magic, even with just one day in Brugge.
I'd barely had the town of Bruges on my radar prior to this past year, let alone Belgium (with the exception of their chocolate and waffles). But I figured being a small country, I could see a couple of it's cities and visit a couple favorites (Paris and Amsterdam) in the same Christmassy trip. To read about the Bruges Christmas Market, CLICK HERE.
Little did I know, Bruges would be the place I fell in love with most and dream of going back to. The following Bruges travel guide should help you make the most of your first time in Bruges in a day. As an added tip, there are plenty of things to do in Bruges in winter as well.
Getting to Bruges
You can drive to Bruges and limited parking is available outside the city center, but I suggest arriving by train. It is easy to get from Brussels to Bruges or Paris to Bruges which means it is also well connected to everything else, so train is the easiest and fastest way to get there. Intercity trains arrive from Brussels, Ghent, and Antwerp dozens of times per day and travel time is quick, at just barely over an hour (or 25 minutes from Ghent). You can easily connect to Brussels or Antwerp from other major European cities like Paris or Amsterdam via the fast Thalys trains or London with Eurostar.
Once you arrive at the Brugge station, you could walk to the Bruges market square/city center in about 20 minutes, but if you have luggage, that is probably not your first choice with all the cobblestone. When you walk out of the train station, there are bus stops. The buses travel to the city center and back every few minutes. You can buy a €3 ticket from the kiosk outside, and you'll make it to the square. Buses that say "Centrum" on top go to the Bruges market square which is probably where you want to be. For simplicity with luggage, I just hopped in a taxi to my hotel near the square and the ride took about 5 minutes and cost €7. Wanna know where I stayed? You'll love it too! CLICK HERE.
Getting Around in Bruges
Bruges can easily be walked and the entire old town can definitely be seen in a day if you're fond of exploring by foot. Biking is also extremely popular, and there are car-free paths meant for bikes. There are a number of bike rental shops or you could take a bike tour like THESE. Or if you prefer to make someone else pedal the bike for you, try one of THESE. If you are a pedestrian and hear the chime of a bike bell, make sure to look around and get out of the biker's way.
Aside from transporting luggage to your hotel, driving in town would not be advisable as a means of transportation. There is a public bus system that goes to all parts of the city from the Brugge train station for around €3. Since 2016, there are also GreenRides, or bike taxis for a great price. Bruges is a very environmentally friendly city.
Things to do in Bruges in One Day
There are easily enough things to do to fill your one day in Bruges. Like I mentioned, I desperately wished I'd had more time to "check things off my list." So without further ado, here is my roundup of What to do in Bruges in One Day…
Take a Canal Tour
Canal boat tours of Bruges provide a unique (and romantic) perspective that you can't get from anywhere else in the city and the commentary provides interesting tidbits. From March till November, boats run from 10am to 6pm, however in the winter, tours are dependent upon weather. Apparently frozen canals are not conducive to boats. We got lucky in December and boats were running.
There are 5 boarding points and the tours last approximately 30 minutes. Each of those different boarding points are offered by different boat companies, so they are not hop-on, hop-off. Each company has 4 boats (for a total of 20 boats allowed on the canals at once) and the cost is €8. One of the popular embarkation points is Bootexcursies Gruuthuse, boarding point 3, Nieuwstraat 11, 8000 Bruges which is near Church of Our Lady. CLICK HERE for a link to their website and a map.
Climb the Belfry Tower
If climbing 366 steps sound like your type of fun, then you shouldn't miss climbing to the top of Bruges 13th century most important tower and old treasury. You can easily find the tower in the main market square. The panoramic view is unparalleled in Bruges. At least that what I've read. I didn't do it. Not by choice, but because Chris didn't want to. Lazy…
Take a Horse-drawn Carriage Ride
Few things are more romantic that cuddling up in a horse-drawn carriage, riding through medieval streets, the smell of waffles and chocolate wafting through the air. Starting pretty early in the morning and continuing through dark, all year round, you can find the carriages in the market square. They line up and you should approach the one in the front. The cost for a 30 minute ride is a whopping €50 and you have the carriage to yourself (accommodating up to 5). It's a pricey splurge, especially when the canal tour is only €8. I thoroughly enjoyed it along with the little bit of history that I gathered over the sound of hoofs clicking on cobblestone.
Midway through the ride, you'll stop at the Beguinage, which was a convent founded in 1245 and still inhabited by nuns. Here, the horses will rest and get some food and water for 5-10 minutes. You can walk across the nearby bridge and see the swans.
Eat and Drink a Lot
Waffles
It's no secret that Belgians know how to indulge. You don't need to give yourself permission to do the same. This is one of those times you just "DO IT" and ask no questions. When in Belgium…you eat waffles.
Here's where we need to clear up some misconceptions. There are two types of waffles in Belgium. The Brussels waffle, which is lighter and more rectangular like the one on the left. The other is the Liege waffle, made from a a much thicker, dough-like batter, with chunks of sugar in it, resulting in a dense final product with a crispy, carmelized coating like the one in the photo on the right. The "Belgian Waffle" is really just a simplified American version of the Brussels waffle.
Chocolate
There are literally beautiful chocolate shops on every street. I honestly didn't notice much of a difference between them. But make sure to pop into a tea room for thick, creamy, REAL hot chocolate. The Old Chocolate House is a safe bet. Consider a chocolate tour at the chocolate museum, Choco-Story. Truly a marvel, you can learn the history of chocolate cultivation and its role throughout history, partake in a workshop, and of course, eat chocolate.
Bruges is known for their unique chocolate creations. Behold:
Beer and Fries
During the golden era of Bruges in the 15th century, there were no fewer than 54 breweries. With the city's decline, so did the number of breweries. Today, at the time of writing this article, there are only three breweries in Bruges. Brewing since 1856, De Halve Maan offers tours and tasting and since 2016, they have a really unique, 3 km long underground beer pipeline for transporting the beer from the brewery in the city center to the bottling facility in the suburbs.
Fries, frieten (Dutch), or frites (French), are a staple of Belgium. Belgians eat their frites typically served in a paper cone, with a dollop of sauce (usually mayo based), using a tiny little fork or their fingers. You can find them at stalls around the market square. Both the Belgians and the French have staked a claim on inventing them. Supposedly, American soldiers during WW1 mistakenly called them French fries because they thought they were in France. This popularized the nomenclature in the US. It's unclear whether this story is true, but if it is, I bet the soldiers had no idea what the ramifications of that little geographical error would make. Either way, they are damn good. And I don't have any pictures because I don't drink beer and I inhaled my fries without a second thought.
It seems there's an overwhelming amount of restaurants, cafes, chocolatiers, yada yada yada. The only thing I can recommend wholeheartedly is a fine dining restaurant, Le Mystique, where I had the best 4 course meal with wine pairings I've ever had. It is set in the luxury boutique Hotel Heritage Relais and Chateaux (which is also where I stayed and I can't rave about enough). The classical and elegant dining room is absolutely stunning You'll want to make a reservation ahead.
Compare Local Restaurants in Bruges

Walk the Streets of Bruges
I think it's obvious that Bruges is beautiful and there's no better way to take it all in than walking. Plus, you just ate a bunch of waffles and chocolate, so do yourself a favor…get some exercise. It's easy to see the entire old city center in 24 hours. Every street and canal is magically different. I'll let the photos speak for themselves.
Where to Stay in Bruges
Since I've hopefully convinced you an overnighter in Bruges is not only ideal, it's practically essential, you now have the exciting opportunity to pick from some truly incredible 3, 4, and 5 star boutique hotels for a really romantic Bruges experience. Compare prices, and read what other travelers have to say at TripAdvisor. The top rated, best hotels in all of Bruges are pretty reasonably priced. You get a lot for what you pay for.
Like I said before, I can't refrain from singing it's praises: Award winning Bruges Hotel Heritage and it's Le Mystique Restaurant are an experience of a lifetime. Read my REVIEW HERE. I truly believe no one could be disappointed with this elegant, historical, and perfectly located luxury boutique hotel.
When to Visit Bruges
Anytime! High season, of course, is summer. Spring and fall are close seconds. Which is why I'm going to be the oddball and say WINTER is a great time to visit Bruges, when subsequently prices and crowds are down. Bruges has a temperate mild climate by the ocean. Summers rarely get hotter than 70 degrees Fahrenheit (about 21 degrees C). Winters can be bone-chillingly cold, but surprisingly, there can still be beautiful green vines and plants around the canals. Dress appropriately and you can experience Bruges during Christmas, which is basically like a fairytale on steroids.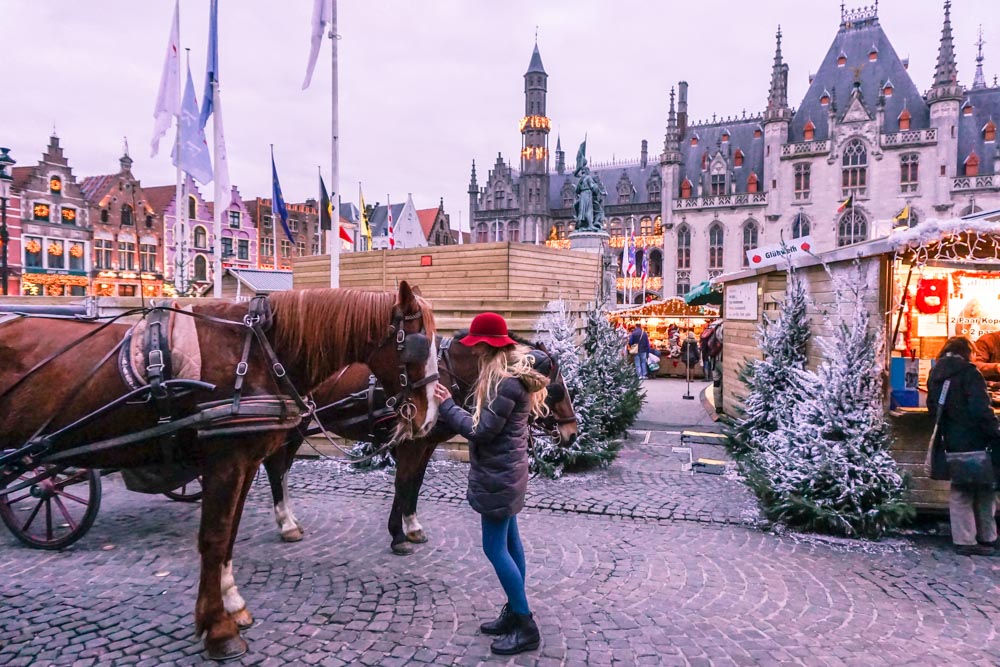 I hope I've given you the necessary help to plan your [overnight] one day trip to Bruges and some activities for an awesome experience in Bruges. If time is a limitation, I will reluctantly agree, a day trip to Bruges is better than nothing at all! A weekend in Bruges would be even better. As much as I was able to see and do in Bruges in one day, I'll definitely be staying for longer next time!
Want to visit other cities in Flanders, Belgium? Read this post on The Best Cities to Visit in Flanders, Belgium. 
Considering visiting Bruges during the Christmas Market? Read my post: BRUGES CHRISTMAS MARKET
Want to know my other favorite European winter village? READ THIS POST
Book my recommendation for the best hotel in Bruges: CLICK HERE 
Need more help planning? Visit the Bruges Official Website
You may also enjoy: The Cotswold Villages
Well, hello there!
Subscribe to get my latest content by email.
Please follow and like us: