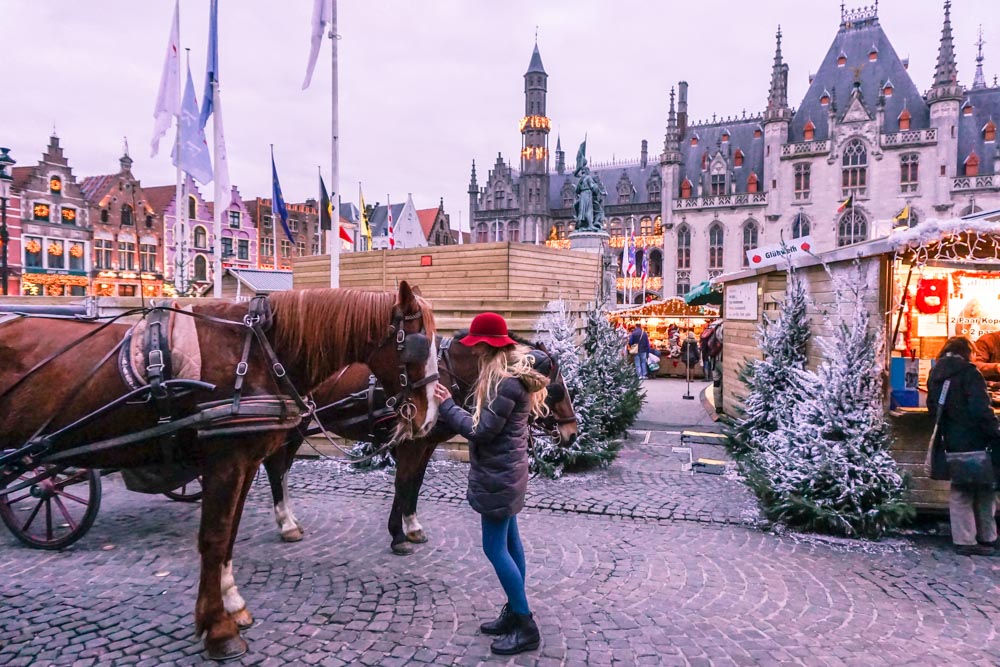 Bruges (or Brugge) is already one of the most picture perfect magical towns in Europe, then add the Bruges Christmas market plus chocolate and you've got what winter dreams are made of. A fairytale town on steroids, think Frozen meets Beauty and the Beast. I think Bruges might be the most magical European town…or at least one of them. And although Christmas markets in Belgium are not quite what they are in Germany, the Bruges Christmas Market is still beautiful and a lovely time of year to visit Belgium.
About Bruges, Belgium
Often referred to as the Venice of the North, Bruges is in Northwestern Belgium. Already such a small country, you can see many highlights of Belgium in a short time or pair it with other European countries. But the bottom line is: don't miss Bruges if you are anywhere nearby.
Incredibly well preserved and authentic, Bruges was once considered a prominent commercial port city in the middle ages before its eventual decline. Bruges later survived German occupation in both world wars virtually unharmed. After a restoration and revival beginning in 1965, Bruges became a major tourist destination and now attracts a few million visitors per year. The city's original medieval architecture makes it one of the most well preserved medieval towns in Europe. It was named a UNESCO World Heritage Site in 1998.s
**This post contains affiliate links. I may make a small commission from these links at no extra cost to you. As an Amazon Associate I earn from qualifying purchases. Read my full disclosure HERE.
Getting to Bruges, Belgium
Bruges is well connect by rail to the rest of Europe. There are hourly trains from Brussels (also one of the most spectacular European city squares during Christmas!) and other Belgian cities, as well as frequent connections to Paris, Amsterdam, and other major European cities. Once in Bruges, the train station is approximately a 20 minute walk from the town square or a short bus or taxi ride.
Bruges Winter Weather
I have a personal obsession with Europe during Christmas, (and winter in general). I always end up freezing my ass off, and saying, "Next year, let's go in the springtime." But come December, I can't get enough of pictures of lights, Christmas trees, steaming cups of cocoa, ice skating, horse drawn carriages, and wooden market stalls and I plan a trip!
But like much of Europe, Belgium can be downright frigid in the winter. That oceanic climate makes the winters feel colder than they are, with a chill that you can't seem to shake. I'm used to piles of snow in the winter and spending my days skiing or snowshoeing in Washington state, but for some reason, I nearly freeze to death walking around a European town in the winter. In Bruges, the average daily temperature in December and January hovers in the mid to upper-30's Fahrenheit. Bring wool socks and warm boots or shoes for visiting the Bruges Christmas Market. Although it occasionally snows, rain is more likely, and the streets could be icy.
About the Bruges Christmas Market
The Bruges Christmas Market runs from the end of November (usually around the 25th) to January 2nd. (As an aside, is January 2nd just the most depressing day of the year, or what?)
Christmas stalls can be found in two locations. One is the Market Square and the other is on a small street not far from the square called Simon Stevinplein, which you can Google map.
Also in the Market Square is a large ice rink where anyone can skate to their heart's content for a small fee and rental skates are available. Looming over the Market Square is the beautiful Belfry tower, which you can climb for city views if you're feeling up to 366 steps.
What to Buy at the Bruges Christmas Market
I don't want you to have huge expectations when it comes to the handicrafts of the Bruges Christmas market. To be honest, I wasn't impressed. I think it's more the festive atmosphere of the stalls, horse drawn carriages, the smells, and the lights that make Bruges magical during Christmas.
The food in Belgium, is of course, delectable though. So indulge in frites, waffles, beer, mulled wine, and hot chocolate. The stalls have so many delicious things to indulge in as well as chocolate shops on every street. It really feels magical.
Where to Stay in Bruges, Belgium
I'll suggest two hotels in Bruges for the sake of simplicity, although I'm sure there are dozens of wonderful ones. I'm obsessed with Hotel Heritage, and have found all hotels with the Relais and Chateaux affiliation are luxurious and historic. Their restaurant, Le Mystique, was divine and one of the fanciest, funnest meals I've ever been a part of.
You can read my review and see photos of Hotel Heritage HERE.
The other hotel I saw that really stood out to me was Hotel De Castillion. We saw their courtyard while walking around, and even though it was winter and the vines were bare, you could tell how stunning it must be in the spring and summer. It's in a great location too. After looking it up and seeing pictures, I'd make it my goal to stay there next time in Bruges. I love the regal, traditional decor.
Final Thoughts on the Bruges Christmas Market
I find Bruges to be one of the most stunning and magical towns in Europe. I think the Christmas atmosphere greatly enhances that. If you're goal is to find unique crafts and a massive Christmas market, I'd head to Germany instead. But if you're looking to explore a picture perfect European fairytale town with a festive holiday atmosphere, you won't be disappointed by Bruges.
Read my guide to visiting Bruges in One Day:
For a guide to my other favorite European winter town, read:

You may also enjoy:

Well, hello there!
Subscribe to get my latest content by email.
Please follow and like us: